It Pays To Be A Member
A deCoste membership is an incredible value at just $35. Here are the benefits it brings you: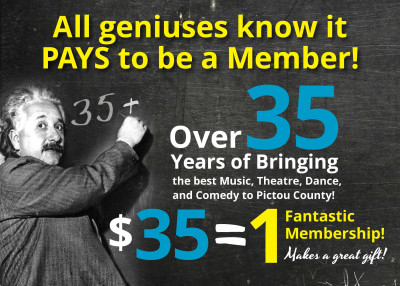 Members receive first notification of most of our shows via an electronic notification (if you opt in with an email address to receive these).
Members receive copy of our program books and flyers in the mail.
We offer a "pre-sale" of seats to members for most shows before they go on sale to the public.
For qualifying deCoste hosted shows, members receive a discount (usually $3) off the price of 2 tickets per show. (Regular price applicable after 2 tickets).
We host a FREE Members Night Show once a year. Your membership gets you 2 free tickets to this show.
Members get great discounts from our many membership partners. See the list below:
2021 Membership Partners
Kent Building Supplies – 5% Discount
Fulmore's Pharmacy – 10% Discount
Grohmann Knives – 20% Off Regular Pricing
Harbour House Ales & Spirits – 10% Discount
Inglis Jewellers – 15% Discount
McKean's Flowers – 10% Off Giftware
Pictou Lodge Beach Resort – 10% Off Food (4 people / 1 room)
Sharp Styles – 10% Discount
Stone Soup Cafe – 10% Discount
The Thistle – 15% Discount
The Brick – 10% Off Regular Pricing
Travel Our Way – Travel Club Membership
Hector Quay – 2 for 1 Admission
Purchase a deCoste Membership
Click on the member card image below to purchase your deCoste Membership.

NOTE: Membership applies for a household and is valid for one year from date of purchase (unless purchased with a Dream Vacation Draw fundraiser ticket which are available between Oct. 1–Dec. 31st each year and expire at the end of the following year).